A new choice for cooling circulation water treatment by this electrolytic descaling machine. because it uses simple and yet effective electrochemistry without chemicals which are expensive, ineffective and environmentally unfriendly. Continuous scale removal and on-site disinfectants generation-mitigate the scaling, corrosion, bio-fouling & bacterial infection in Cooling Tower Water Distribution System.
In order to overcome the limitations of conventional cooling water treatment (addition of chemicals or by water softening), Dinore developed removal or separation of scale by electrlytic operation and prevents the Corrosion, Bio-fouling, Scaling, Micro-Organism growth & spread of airborne bacteria.
Install and use:

1. Access voltage 220V / 380V±5%, must be safely grounded and the ground wire must
be well fixed in the fuselage part.Electric current according to the type parameter.
2. Electrode basket should immerse in water.
3. The scale deposit basket on the outside should be regularly cleaned and the titanium mesh anode inside should be wash with tap water to reduce scaling.
4. Keep control box as near electrode as possible, rain proof.
5. Don't shut on/off frequently after connecting wire.
6. Clean electrode:Disassemble screw and bolts,take off both ends cover,Separate negative and positive electrode,Close power supply before clean electrode.
7. If there is fouling on the titanium anode inside the basket,use 10% hydrochloric acid to clean anode,the anode should immerse in the hydrochloric acid liquid for 2-3minutes, and then wash with clean water till clean Fix electrode for work.
8. Do not scratch the electrode surface when cleaning,Disassembly and installation.
9. Wear protection glass, anti acid gloves when use hydrochloric acid. Ask help for doctor if acid liquid touches skin.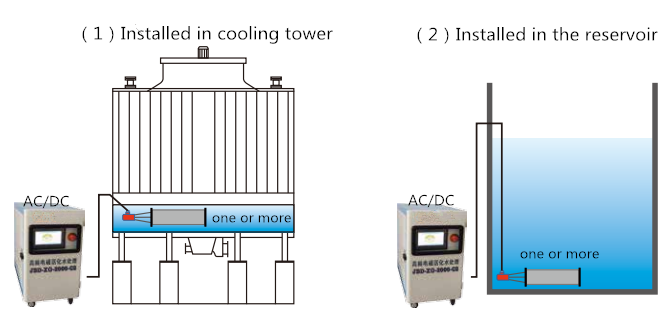 Main components:
1. Electrolytic basket : Composed of anode and cathode, the anode used titanium mesh with Ru-Ir mixed oxide coating; The cathode which Scale deposition occurs is made of titanium mesh.
2. Power supply
3. Control cabinet ( If need two or more Electrolytic basket)
4. Cable: Armored cable
1. Central air-conditioning,chiller: circulating water systems of cooling water or chilled water.

2. Heating system: the hot water circulating system for heating
3.Industry(chemical plant, power plant, steel mill pharmaceutical factory,etc.),processing(air compressor,injection molding machine, die-casting machine,etc.): circulating water systems of coolin water or chilled water.
4. Apartment,hotel,building: bath hot water circulating system,laundry,swimming pool,etc.
5. Geothermal water system: the water system for bathing or heating by use of geothermal water.
6. Waste-water treatment: waste-water treatment for waste-water in oil field or oil well, metallurgical wastewater,printing and dyeing wastewater,hospital wastewater, restaurant wastewater, electroplating wastewater, etc.
Characteristics
1. Electrolysis technology without chemicals and secondary pollutants;
2. Put the basket into water, It's easy to use;
3. Not only Descaling,but also sterilization/algae removal and soften water;
4. Eased the Condensation of cooling water,More than 90% water saving than traditional treatment methods.
5. If you want to get the best descaling effect,Choose the appropriate model for the water according to actual amount of the treated water .